Discover the Wild in the 2017 Jeep Wrangler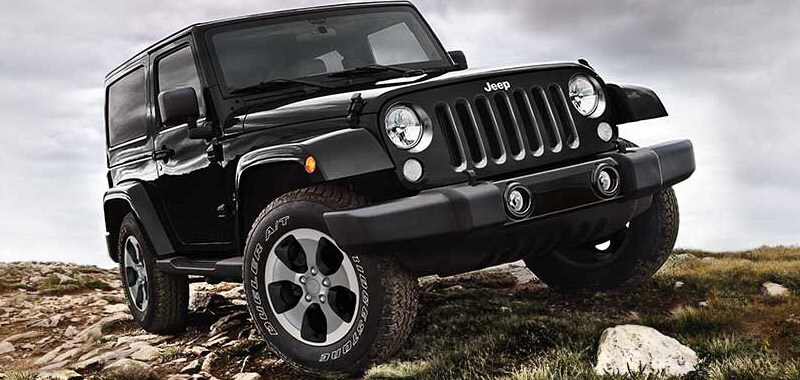 Canada is known for its beautiful wilderness, so get out there and explore it! With the 2017 Jeep Wrangler, you can do it from the comfort of Canada's most capable off-road vehicle. A choice of fabric or metal, removable convertible top allows you to enjoy fresh air and sunshine while you explore many of the beautiful backwoods trails that Ontario has to offer.
And once you're home from your long weekend getaway, you can quickly hose out the mud and grime that accumulated inside your Jeep thanks to a fully rubber floor with drain plugs. If you're ready to trade in your car or soft roading crossover for a genuine, body-on-frame, full-time four wheel drive SUV, book a test drive at 1-866-980-4547.
2017 Jeep Wrangler Trail-Rated Performance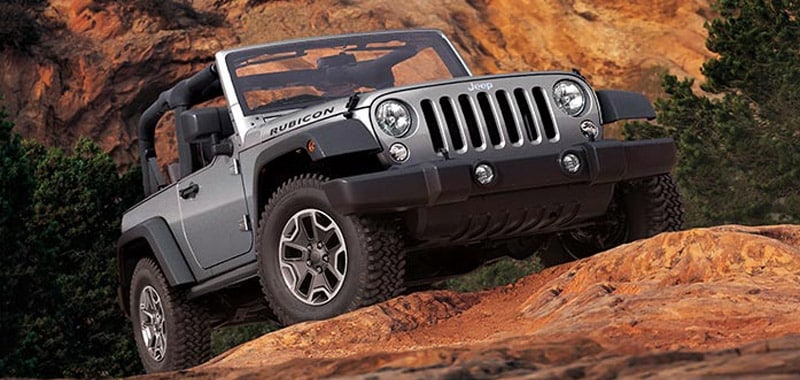 How did Jeep engineers make sure that the 2017 Wrangler lives up to over 70 years of off-roading excellence? Here are their testing criteria:
Traction - the Wrangler is able to maintain straight, forward momentum on all types of terrain (icy, snow, sand, mud, etc.).
Ground Clearance - all Wranglers SUVs have a high ground clearance with steep approach and breakover angles so that the undercarriage clears logs, rocks, and uneven ground.
Manoeuvrability - The Wrangler has a relatively short wheelbase, precise steering, and grippy tires to navigate narrow trials and tight turns.
Articulation - A Wrangler's suspension is supple so that all wheels can flex and travel to maintain firm contact on uneven ground.
2017 Jeep Wrangler Engine and Fuel Economy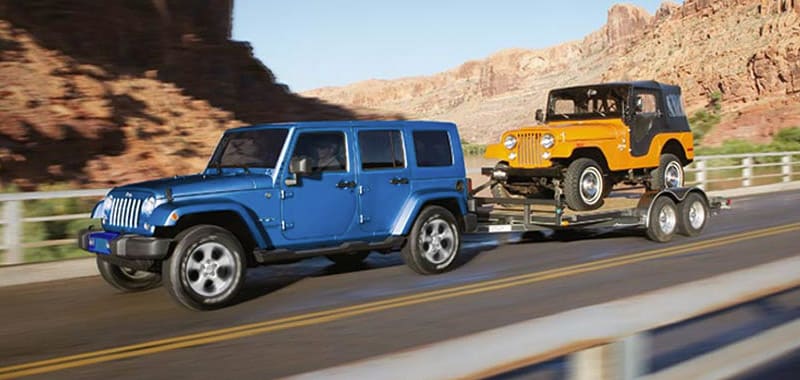 There's only one engine offered in the 2017 Jeep Wrangler, but it's all you'll ever need for all your urban and off-road adventures. The 3.6L Pentastar VVT V6 produces a best-in-class 285 horsepower and 260 lb-ft of torque. It features a special acoustic cover to reduce noise, optimised intake runners for more low-end grunt, equal length exhaust headers for improved mid-range power, and a high-mounted alternator designed for water fording. And as for fuel economy, the 2017 Jeep Wrangler returns up to 14.2 L/100km in the city and 11.0 L/100km on the highway through your choice of 6-speed manual or 5-speed automatic transmission.
2017 Jeep Wrangler Interior Features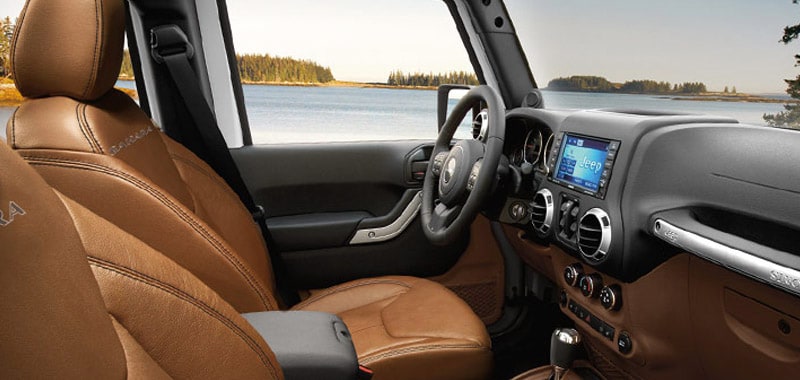 The 2017 Jeep Wrangler may be tough and rugged enough to take on landscapes reminiscent of Mars and the Moon, but the interior is remarkably comfortable and capable for up to 5 passengers. For comfort, when you spec out your Wrangler with leather chairs, you get standard front seat heaters to make jumping into your Jeep in the middle of winter much kinder on your backside. And as for capability, the 2017 Wrangler protects your valuables and tools with under floor storage bins, a lockable centre console with dual-stage lid tray, and additional cargo tie straps in the rear trunk area.
2017 Jeep Wrangler Parts and Accessories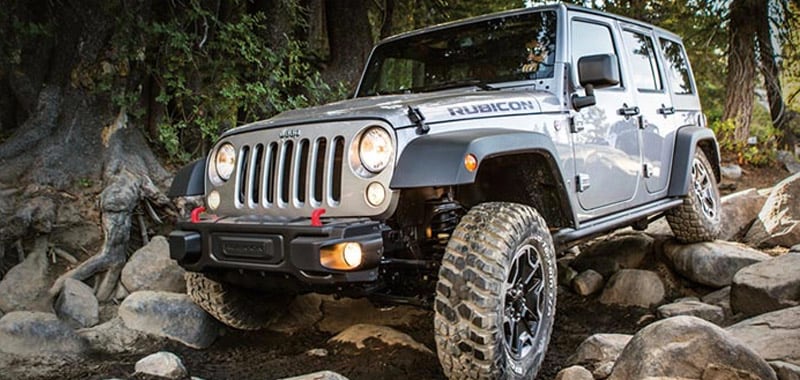 If there's one SUV that demands to be customized, it's the 2017 Jeep Wrangler. Whether you're looking for a suspension lift kit, rubber floor mats, flood lights, winch system, off-road wheel and tires, or step up bars, the Islington Chrysler Dodge Jeep Ram parts centre in the GTA is your most convenient source to upfit your Wrangler in warranty-approved Mopar accessories. And if you want those high-quality components installed fast and easy, book a service appointment online. Our certified technicians can get it back on the road by the end of your work day, no problem.