"Go Faster than Yesterday" - 2017 Fiat 500 Abarth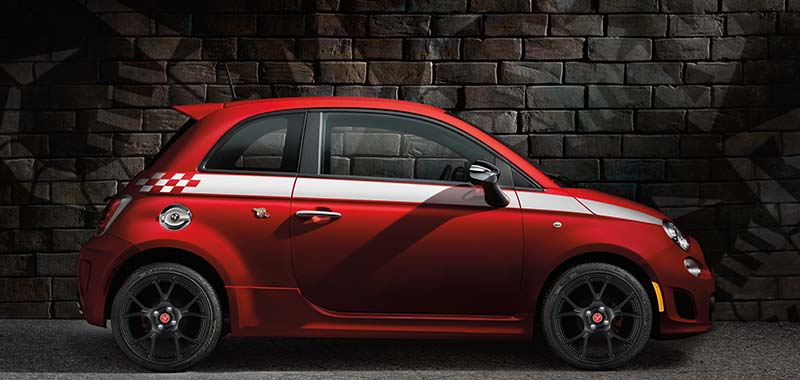 These are the words uttered by Carlo Abarth, the namesake behind the iconic yellow and red scorpion shield. For nearly a century, the Abarth performance marque has used (and continues to use) aggressive aerodynamics, high-revving engines, firm suspension setups, and big brakes to scoot around the track to the tune of 10 world records and 133 international titles.
Though the 2017 Fiat Abarth is based on the diminutive and value-priced 500 subcompact hatchback, we guarantee that as soon as you hit the accelerator and wind the turbocharged MultiAir engine into the upper rpms, you'll imagine that you're crossing the finish line at Mille Miglia.
But words only convey so much. To find out how the 2017 Fiat 500 Abarth (available in coupe or cabriolet body style) reacts to you behind the wheel, contact the Islington Chrysler sales team to book your test drive.
2017 Fiat 500 Abarth Exterior Design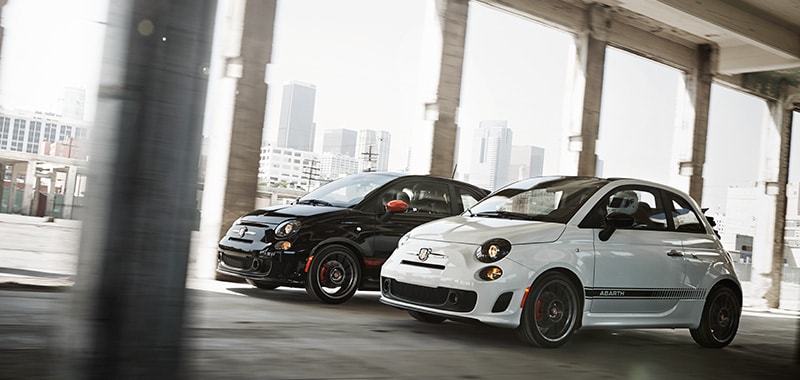 The classic Abarth race livery is in full display on the 2016 Fiat 500 Abarth. For increased downforce and greater airflow to the engine and brakes, the Abarth is fitted with unique front, side, and rear spoilers and wider ducts. At all four corners, the 2016 Abarth sports larger 16-inch or 17-inch aluminum wheels that give you increased grip during cornering and acceleration. Moving along to the back, you'll immediately notice the dual exhaust tips wrapped in bright chrome accents. And if you want that extra sporty style, you can order your 2016 Fiat 500 Abarth with optional side racing stripes and contrasting rearview mirror caps.
2017 Fiat 500 Abarth Interior Design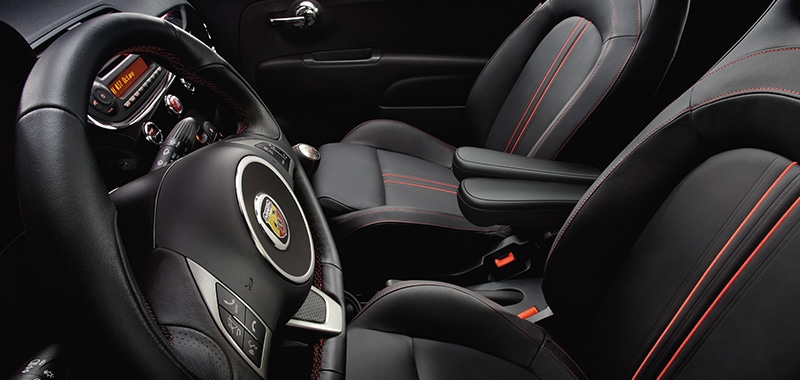 Let's face it-you'll be spending most of your time enjoying your new 2016 Fiat 500 Abarth behind the wheel. Leave people you pass on the track to enjoy the outside view! Fiat's engineers anticipated that the Abarth would pull some serious later g-forces-that's why they fitted the interior with race-style bucket seats featuring a pass-through for a 5-point seatbelt harness. Making fast adjustments is a joy with the Abarth's thick-rimmed, flat-bottomed steering wheel. And executing perfect shifts is easy and rewarding with the standard aluminum pedals. Want to take a break from the music burbling out those dual exhaust tips? Then order your 2016 Fiat 500 Abarth with the available 6-speaker, 368-watt Beats Audio Premium Sound System and stream your own tunes through wireless Bluetooth.
2017 Fiat 500 Abarth Engine Performance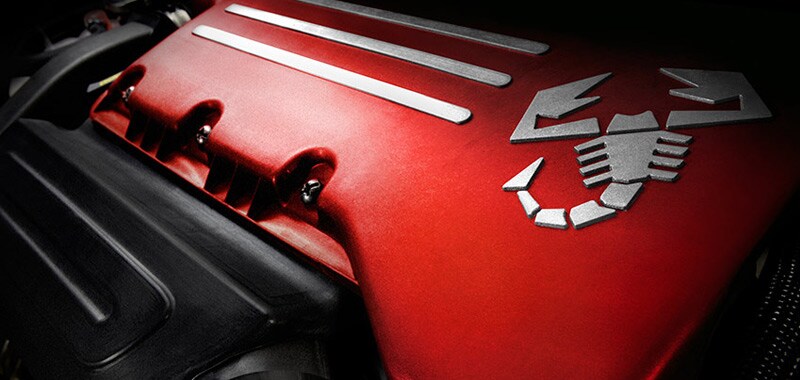 What allows the 2017 Fiat 500 Abarth to go from 0 to 100 km/h in just 7 seconds? Simple: low weight and high power. At only 2,541 pounds, the Abarth is more than 200 pounds lighter than its closest rivals, the Ford Fiesta ST and Mini Cooper S. And as for power, the new 500 Abarth's 1.4L MultiAir turbocharged twin intercooled engine produces 160 horsepower and 170 lb-ft of twist through your choice of 5-speed manual or 6-speed automatic transmission. But all this performance capability won't punish you at the gas pumps should decide to keep the fast starts to a minimum. The 2016 Fiat 500 Abarth returns a very respectable 8.5 L/100km in the city and 6.9 L/100km out on the highway.
Fiat 500 Abarth Parts & Accessories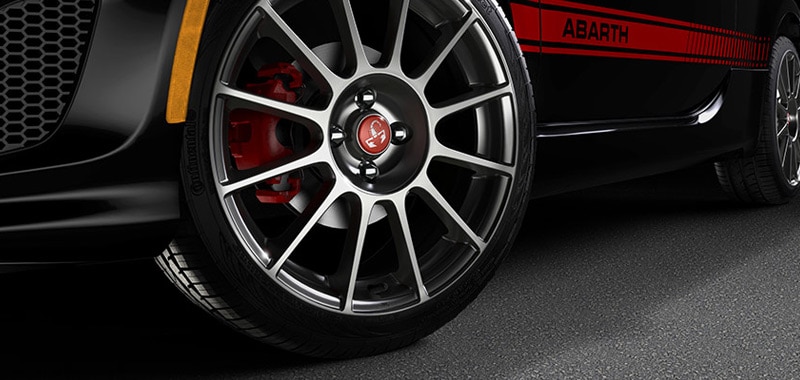 Although most of the go-fast components like big rims, body kit, spoilers, and upgraded brakes come standard from the factory on your Fiat 500 Abarth, you can still add some choice touches here and there. To order genuine OEM Fiat parts and accessories such as rubber floor mats, summer performance tires, cold air intake, wiper blades, and touch up paint faster than through a 3rd party retailer, use Islington Chrysler's part request order form. We're just a short drive away from nearby Etobicoke, Brampton, Oakville, York, and Mississauga, Ontario.